More New Bears!
Posted on
Good morning, I hope you had a good weekend and managed to keep warm! We spent the weekend working on more new bears and are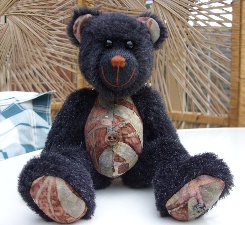 delighted to introduce them to you. Last night I added the gorgeous Twill to the Website Shop, he is 8" tall and is another bear in our new Fabric Featured Collection. He is made of really soft, dense, black German alpaca combined with very striking patterned fabric in shades of beige, brown and terracotta. We have used the fabric for his tummy, pads, paws and the inside of his ears. I love the way the textures contrast and the alpaca sort of wraps itself around the fabric. In style Twill has long bent legs, long curved arms and a rounded tummy. He is quite heavy with steel shot in his feet and paws whilst the rest of him is firmly stuffed with polyester filling. As you can see he is a very happy bear with a lovely smiling face. I hope you like him.
As well as new styles and patterns of bears, we are of course continuing to make our usual styles which are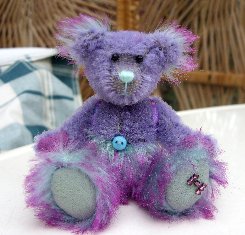 so popular with collectors. This morning I have added the bright, colourful Xavier Braces to the New Bears Page of the Shop. He is a 3 1/2" Braces Boy, the first of the New Year and he is made in gorgeous colours, sure to cheer any dull January day! His upper body is made of very short, dense, soft German alpaca in a pretty shade of deep lilac. We have combined this with fantastic mohair for his trousers, turquoise backed the fur is really soft, straight and tipped in deep cerise pink. It makes great trousers and looks good with the short lilac fur. We have used the two types of fur to make his ears, the short fur at the front and the long mohair at the back so it gives him wonderfully fluffy ears which look great because the fur is tipped in the bright pink so it shows up. We have used toning turquoise ultrasuede for his pads and deep pink ultrasuede for his paws. His braces are made of narrow purple ribbon decorated with jewel coloured spots, he has a pale turquoise stitched nose, a turquoise belly button and shiny black English glass eyes. Xavier Braces is filled with steel shot and so has a good weight for his small size. I love him, I love his cheerful bright colours and his sweet little face. I hope you like him too.
Steve is currently working on a 6" Patchwork bear which is going to look really striking when he is finished. This bear is a different pattern than our usual Patchwork bears and there are more pieces to the pattern so it means he will be made from 19 different types of fur - that's definately patchwork! He will have him stitched soon so hopefully I will be able to finish him later today. Come back soon to meet him. I am working on another of our new Pieces of Eight Collection. He is 4" tall and made of a deep cream mohair with a white head. His body is made of eight pieces (hence the name) in two different colours stitched in the Harlequin style but this bear will be even more colourful because the two different furs used are two-tone themselves, blue backed with a purple pile and orange backed with a red pile. He is, I hope, going to look brilliant, and I may be able to add him to the Website Shop later today so do come back and meet him. All our Pieces of Eight bears are called after a Pirate and I have a long list to choose from so there will be lots more of these bears to follow including a 5 1/2" one which is cut out waiting to be stitched. I have also got another of our Fubsy Collection cut out and waiting to be stitched. This is the same style as Stumpy who you may have read about on earlier Blogs. Well that's all for now, I had better go and get on otherwise none of these bears will get finished! I hope you have a good week, I'll write again soon. Don't forget you can add comments to this Blog post so if you would like to get in touch, please do, we would love to hear from you.