Our latest Pieces of Eight bear.
Posted on
Today (Monday 20th) I have added the lovely little Bowen to the Website Shop. He is the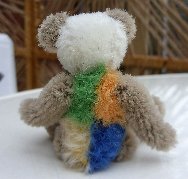 latest bear in our Pieces of Eight Collection and I wanted to give you the opportunity to see more photo's of him. As you can see here, his body is made in a selection of lovely colours. The fur is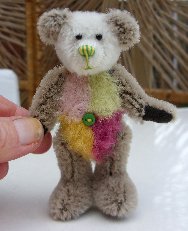 all the same type, short, very matted, tufted German mohair and the colours we have used range from deep blue to pale lemon. He has dark brown ultrasuede pads and paws and a lovely two coloured stitched nose. Bowen is named after John Bowen who was a Pirate active in the early part of the eighteenth century. Our Bowen is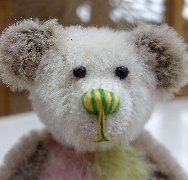 a more gentle little chap with a lovely face. I do hope you like him.
We are still working hard and another new Pieces of Eight will be added to the Website Shop in the next day or so. He is made of a different type of fur and has black arms, legs and ears. We are also working on a sweet new Panda bear, so do come back soon and meet these other bears too. Have a good week, I'll write again soon. Don't forget, the new Blog allows for comments so do please let us know what you think of the lovely Bowen.