The new Ballerina Collection.
Posted on
Sorry it's been an age again since I added to our Blog, so much for being better at it this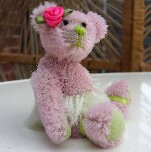 year! However I wanted to give you a chance to see a few more photo's of Margot our delightful 3 1/2" Ballerina, the first bear of our new Ballerina Collection. As you can see, she is made in a pretty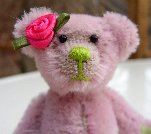 combination of Spring colours, pale pink and a lovely shade of apple green. We have created the ballet shoe effect by using narrow ribbon wrapped around Margot's ankles and this matches the lovely green cashmere used for her pads and paws. Her nose is also stitched in green thread and like all our little girl bears, we have given her a pretty ribbon flower over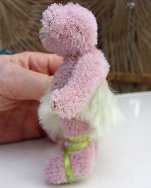 her right ear. I really enjoyed making Margot and there will be more Ballerinas to follow so keep your eye on the New Bears page of the Shop.
I hope you all enjoyed our March Newsletter. There are one or two bears still available from that so do have a look at the Website Shop to see who still needs a new home! Our new Pieces of Eight Collection seems to be very popular and I am currently working on more of them, I will add them to the Shop as they are finished. I have also finished a sweet 4" bear in the last couple of days called Dalton. He is also on the New Bears page so have a look. Whilst it currently says he is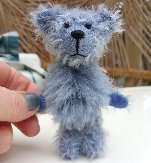 reserved, that is because he is also showing on another Website and we didn't want to risk him being adopted in two places at the same time. However, he is currently still available to adopt, so let me know if you are interested in him.
We are still hard at work and all our new bears will be added as they are finished. Our first fairs of the year are over the Easter Weekend and we will soon be working hard to make stock for them. Don't forget that the Blog now allows for comments, so do let us know what you think of Margot, I hope you like her.