Welcome To Haven Bears

A warm welcome to the Mobile and Tablet friendly Haven Bears Website, I do hope that you like it. You can also now follow us on Instagram at havenbearsandhares where we add new bears as we finish them each day and show Haven Bears on Tour as we travel around the country for fairs, just click on the link at the top of the page, so do visit and see our new bears as they are finished.
Quick Update - Welcome to our Website, ONLY 3 DAYS TO GO NOW! We are currently hard at work on our 2020 Christmas Collection which will be inveiled here THIS SUNDAY, November 1st. It has become traditional for us to unveil the first of our Christmas bears at The Scottish Bear Fair held each year on the first Sunday in November in the beautiful west coast town of Troon. Sadly, for obvious reasons, the fair is not taking place this year but we decided to stick with the same date to unveil our Christmas Collection, so the first few of our new Angels and Elves will be added to our Website Shop Christmas Collection page on Sunday 1st at 11am, which is when the Scottish fair would have opened it's doors. We will be sad not to be there as we always enjoy our trip north of the border but we will be there in spirit! We will be working hard over the next few weeks making as many Angels and Elves as we can so don't worry if you miss out on the first few, there will be more. Do come back on Sunday and meet them.
PLEASE READ THIS BEFORE ADOPTING A BEAR- We wanted to let you have a further update on Haven Bears situation in view of the ongoing Coronavirus outbreak. In March I was classed as vulnerable and therefore had to shield until 1st August. Although shielding is currently suspended, I am still being very careful and not going out very much. This means that neither can Steve, so we still can't take parcels to the post office, however although we have been using a courier service since March which did work well, Royal Mail as you may have seen in the press, have now introduced rather wonderful Parcel Boxes. These are basically post boxes for parcels and it means that we can buy our postage for them online, print out the labels and then take them to a Parcel Box to send them off. The nearest one to us is about 15 minutes away but new ones are being added all the time as the service is rolled out across the country so maybe we will get one a bit closer soon. We are sending the bears 1st Class Standard, we can't send them Signed For using the Parcel Boxes, those still have to be taken to the Post Office which we can't do, but so far the 1st Class service has meant that the bears we have trialled the service with arrived within 2 days which is much quicker than with the courier. Another benefit of this service is that we don't need to wait until we have 6 parcels to send before posting them, so the delay between ordering a bear and dispatch is reduced. We have used the Parcel Boxes three times so far and it's worked really well.
We are still charging £4 per bear for this service and the bears will still be sent in separate boxes as the Parcel Boxes only accept parcels up to a certain size, but they are sent using 1st Class whereas the courier service was 2nd Class and they do include a small amount of insurance up to a value of £20. We have still not reinstated our overseas posting however you can actually use Parcel Boxes to send parcels overseas using the Standard International Service which also includes insurance up to £20 but you cannot track the parcel. If any of our overseas customers wish to try this, please get in touch and we will arrange for the additional delivery charge. As long as we don't have to start shielding again we will continue to use this service, but we still have the courier service as a back up so basically Haven Bears is carrying on regardless! We are already planning our 2020 Christmas Collection and there will be Elves! If you have any queries about our delivery service please get in touch, in the meantime, take care and stay safe.

We are still working hard on new bears and are continuing to show new bears on our website, Instagram and Facebook pages so come back soon and see who else is new. We are in the fortunate position of being used to working from home and so we will continue to make bears as we always do.
I have updated our Fairs Page in view of the current health issues so do visit there to see what is happening with our fair plans for 2020. We will continue to update this page as the situation develops.

Last year we created our Haven Bears Facebook page - I know, it's a shock to us too! We would love it if you would Like and Follow us, you can find us at www.facebook.com/havenbears or just click on the Facebook link at the bottom of the page.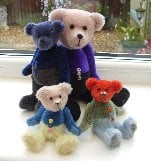 Hello everyone, welcome to the Haven Bears shop. Our names are Alison and Stephen Beal and we have been making our gorgeous Haven Bears for over 17 years. All of our bears are Collectors Bears and are "One of a Kind", they are made using the very highest quality mohair and alpaca with cashmere, Sassy fabric or ultrasuede pads and paws. We use a variety of fillings, steel shot, glass beads, rubber or plastic pellets and polyester to give our bears weight and that extra cuddle factor. During 2013 we also introduced a new range of Plush and semi-plush bears in a range of sizes. The use of this more affordable material enables us to make big bears at a sensible price. We may not always have these bears in stock but they are available to order so if you are interested in one, just let us know. During 2017 we also started to make beautiful Haven Hares in a mixture of plush and mohair and in 2019 we launched our new Freestyle Bears and Hares, a collection of hand painted bears, totally unique and very special, visit the Shop Page for more details. As all our bears are "One of a Kind" we guarantee not to duplicate a bear so you know that each one you buy is unique to you.

We trade at several shows during the year, Teddy Fairs, Toy Fairs and other events and we travel all over the UK to exhibit so there are many opportunities for you to meet the bears in the fur, but we also like to offer our bears for sale on our website for those of you who, for whatever reason, are unable to get to fairs. We currently include postage details for the UK, EU, USA, Canada, New Zealand and Australia on our website. If you are located elsewhere in the world and wish to purchase a bear, just e-mail us for details of the cost and we will get back to you as soon as we can.
We also sell our bears at a number of the best Teddy Bear shops across the UK. The bears that they sell are unique to them and cannot be bought from anywhere else. The latest shop to join this select group is The Teddy Bear Shop who are based in South Wales. We have just made our first eight bears for them and they will be available to adopt from them at the end of July 2020. Visit their website www.the-teddybearshop.com to learn more.


We do hope that you enjoy browsing our website and that you find a bear that you want to adopt. We offer a secure shopping cart system and accept credit and debit card payments, you can also pay using your Paypal account if you have one. If you have any questions about a bear before you decide to adopt him, please do not hesitate to contact us using our Contact page.

As our bears are all unique, the stock available is constantly changing so do visit us again soon to see who is new. We do try to update the site regularly as new bears are finished.
We welcome trade enquiries.
Please do note that these bears are Collectors Bears, they contain loose parts and ARE NOT TOYS, they are unsuitable for children.