Welcome To Haven Bears


A warm welcome to the Mobile and Tablet friendly Haven Bears Website, I do hope that you like it. You can also now follow us on Instagram at havenbearsandhares where we add new bears as we finish them each day and show Haven Bears on Tour as we travel around the country for fairs! To see the Gallery of our Instagram photo's we also have a separate Instagram Page

here on the Website so do visit and see our new bears as they are finished.
Quick update - Today (Wednesday 16th) I have added two more beautiful bears to the Website in addition to the gorgeous colourful new bears added on Monday which included Nasreen, the first in a brand new style called Bolero Bears, so do visit the shop New Bears page and meet them all.
Our next fair is the Scottish Bear Fair held at the beautiful Concert Hall in Troon on the west coast of Scotland. We will be up there on Sunday November 3rd and would love to see you there. For full details of this lovely event please visit our Fairs Page. Traditionally this fair has become the first opportunity each year to see the launch of our Christmas Collection and we are hard at work on some really lovely new styles of Elves and Angels. It is also the 10th Anniversary of the Scottish Bear Fair and so the day will be even more special.
We have recently created our Haven Bears Facebook page - I know, it's a shock to us too! It's early days so there isn't much to see yet but we would love it if you would Like and Follow us. You can find us at www.facebook.com/havenbears or just click on the Facebook link at the bottom of the page.

I have updated our Fairs Page with some of the events we plan to attend and take part in over the remaining months of the year so do visit that page to learn more.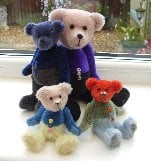 Hello everyone, welcome to the Haven Bears shop. Our names are Alison and Stephen Beal and we have been making our gorgeous Haven Bears for over 17 years. All of our bears are Collectors Bears and are "One of a Kind", they are made using the very highest quality mohair and alpaca with cashmere, Sassy fabric or ultrasuede pads and paws. We use a variety of fillings, steel shot, glass beads, rubber or plastic pellets and polyester to give our bears weight and that extra cuddle factor. During 2013 we also introduced a new range of Plush and semi-plush bears in a range of sizes. The use of this more affordable material enables us to make big bears at a sensible price. We may not always have these bears in stock but they are available to order so if you are interested in one, just let us know. During 2017 we also started to make beautiful Haven Hares in a mixture of plush and mohair and this year, 2019, we have just launched our new Freestyle Bears and Hares, a collection of hand painted bears, totally unique and very special, visit the Shop Page for more details. As all our bears are "One of a Kind" we guarantee not to duplicate a bear so you know that each one you buy is unique to you.


We trade at several shows during the year, Teddy Fairs, Toy Fairs and other events and we travel all over the UK to exhibit so there are many opportunities for you to meet the bears in the fur, but we also like to offer our bears for sale on our website for those of you who, for whatever reason, are unable to get to fairs. We currently include postage details for the UK, EU, USA, Canada, New Zealand and Australia on our website. If you are located elsewhere in the world and wish to purchase a bear, just e-mail us for details of the cost and we will get back to you as soon as we can.
We also sell our bears at a number of the best Teddy Bear shops across the UK. The bears that they sell are unique to them and cannot be bought from anywhere else. The latest shop to join this select group is the lovely Sidmouth Gifts, a vibrant and busy shop in the popular Devon town of Sidmouth who have a really nice collection of our smaller bears to tempt you. If you are down in Devon on holiday or lucky enough to live down there, do visit them.



We do hope that you enjoy browsing our website and that you find a bear that you want to adopt. We offer a secure shopping cart system and accept credit and debit card payments, you can also pay using your Paypal account if you have one. If you have any questions about a bear before you decide to adopt him, please do not hesitate to contact us using our Contact page.


As our bears are all unique, the stock available is constantly changing so do visit us again soon to see who is new. We do try to update the site regularly as new bears are finished.
We welcome trade enquiries.
Please do note that these bears are Collectors Bears, they contain loose parts and ARE NOT TOYS, they are unsuitable for children.