Our latest creations.
Posted on
Hello to you all, we have had a busy few days as the response to Stumpy who we showed you last week, was really good, and several of you asked for a similar bear, so I have been busy working on them for the last few days. I am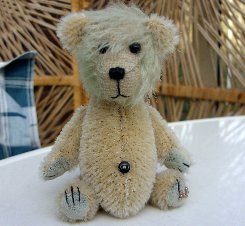 showing a photo here of Bud, the latest of these bears to be made. He is made of the same short, creamy gold Hembold mohair as Stumpy but his head is made of longer, sparse, straight wheat gold mohair which has been hand dyed with a pale green wash. He has very pale green cashmere pads and paws and as you can see, he is adorable! We have decided to call this collection the Fubsy Collection. After spending some time online on various Dictionaries, I found that this word is an archaic word meaning stumpy, so it seems a perfect name! Bud is still available at the moment and will probably be added to the Website Shop New Bears page later so if anyone is interested in him, let me know. He costs £46 plus postage.
I am also showing a photo here of the adorable Chambray, an 8" bear who has just been added to the New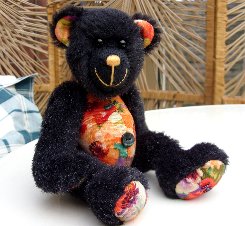 Bears Page of the Website Shop. He is the second bear in our new Fabric Featured Collection and as you can see he is a perfect antidote to the dark, cold January days! He is wonderfully colourful and has such a happy smiling face. I hope you like him, he costs £65 plus postage. I am busy working on another of these bears with more subtle colouring but who I think is going to look equally lovely. I will let you see photo's once he is finished.
Steve is busy working on a new Patchwork bear in a slightly different style and I will hopefully be able to add him to the Website tomorrow, so do come back soon and meet him. He is very colourful and I think will look really spectacular when he is finished.
So as you can see, we are still working hard and have lots of ideas for new bears. I will be making more of our Pieces of Eight Collection soon too which I am looking forward to. The first of these bears had black arms, legs and head with different colours for the eight piece body but the next ones I make will be in paler colours I think. Maybe cream limbs and head with brighter colours for the body. I will have a look through our fur stock and see what I can find. If you have not seen these bears, visit the page for 3 1/2"/4" bears and you will see what I mean.
I hope you have a good week and manage to keep warm in this very cold winter weather. I will write again soon. Don't forget, this new Blog format allows for you to leave comments, so if you would like to get in touch or would like to let us know what you think about any of our new bears, please do.