New - "Jubilee Fudge"
---
New - "Jubilee Fudge"
£65.00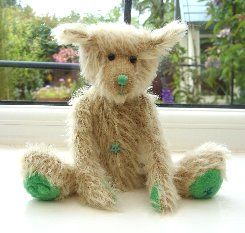 The very first bear we made in this style was called Fudge and so this is Jubilee Fudge. The original bear was 13" tall and was one of the very first designs we created after we started making our own patterns and we still use this pattern today. Jubilee Fudge is around 7" tall and is made from a very similar fur to the original Fudge, straight, pale gold, stringy mohair. Again it is combined with the emrald green fabric for his pads and paws with the number 20 stitched onto his right footpad. In style he has short legs with round pads, long slim arms, a long snout and his ears are stitched flat on the top of his head. These bears are always steel shot weighted so that they sit well with their feet between their paws. Jubilee Fudge has a green star shaped belly button, a green stitched nose and shiny black English glass eyes. We do hope that you like him, we always feel that these bears have a Haven Bears style, he costs £65 plus postage.
Please note that as with all our bears, Jubilee Fudge is not a toy and is not suitable for children.