"Mulled Wine"
---
"Mulled Wine"
£52.60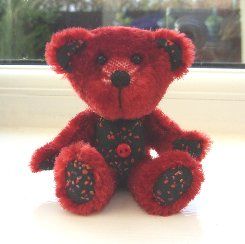 Please read the Update on our Home Page before adopting one of our bears regarding changes to our postal arrangements because of Covid.
This adorable little chap is Mulled Wine, when I cut him out I wasn't really intending him to be a Christmas bear but when he was finished he just looked like he should be, the colour of his fur is so rich and he looked really seasonal so we called him Mulled Wine. The fur is short, really dense, deep red German mohair and we have combined it with Liberty Lawn fabric in black with a multi-coloured random pattern of dots and squiggles. The fabric has been used for his pads, paws, inner ears and tummy and it stands out so well against the deep red fur. He is 4 tall with slim arms, legs and body, a large head and a sweet heart shaped face. He has a black stitched nose which glistens as the light catches it, shiny black English glass eyes and a red belly button. Steel shot filled he has a little weight and as you can see, he is very sweet. He costs £52.60 including postage.
Please note that as with all our bears, Mulled Wine is not a toy and is not suitable for children.