"Ailell Elf"
---
"Ailell Elf"
£54.60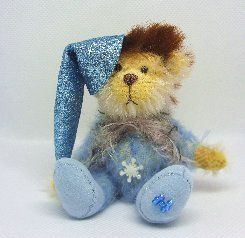 Please read the Update on our Home Page before adopting one of our bears regarding changes to our postal arrangements because of Covid.
We are delighted to introduce you to Ailell Elf, a sweet 4" addition to our 2020 Christmas Collection. He is made of short, white backed, pale blue straight, fairly sparse German mohair which we have used for his arms, legs and tummy. His tunic is made from curly pale pink and black Schulte mohair matted and woolly in texture. For his head, ears and paws we have used pale gold mohair combined with lovely chestnut brown fur, dense and straight, which we have used for his hair, with his pale blue boots and gorgeous sparkly blue felt hat Ailell Elf is a cheery Christmas pal. We have given him a multi-coloured metallic thread stitched nose and boot laces, a snowflake shaped belly button and shiny black English glass eyes. He is steel shot filled for a nice weight and has patterned cream cashmere paws, I do hope you like him, he's very cute. Ailell Elf costs £54.60 including postage. If you would like to see a larger photo of him click on the link above to our Instagram page.
Please note that as with all our bears, Ailell Elf is not a toy and is not suitable for children.