"Yushi Wu"
---
"Yushi Wu"
£54.60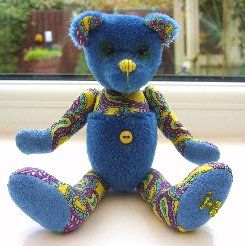 Please read the Update on our Home Page before adopting one of our bears regarding changes to our postal arrangements because of Covid.
We are delighted to introduce you to this very striking and unusual Panda Bear. He is called Yushi Wu and is around 5 1/2" tall, he is part of our Love Liberty Collection and as you can see, his arms, legs, upper body and inner ears are made from gourgeous Liberty fabric, with his head, lower body and the back of his ears made from short, dense, straight deep blue South African mohair. Whilst he is a very unusual panda and you may struggle to find one like him in the wild, he looks amazing! The fabric has a colourful almost paisley pattern in shades of purple, green and lilac on a yellow background. The deep blue colour of the mohair makes the pattern of the fabric just sing out. We have given him toning blue ultrasuede pads and paws, painted panda markings, shiny black English glass eyes and a yellow belly button. He is quite loosely jointed and heavily filled with steel. His nose is stitched in yellow thread and highlighted with metallic blue thread, I do hope you like him as much as we do! He was made recently and was included in one of our recent online events but didn't find a new home so he is hoping being on the Newsletter will give him another chance! Yushi Wu costs £54.60 including postage.
Please note that as with all our bears, Yushi Wu is not a toy and is not suitable for children.