"Amigo"
---
"Amigo"
£50.00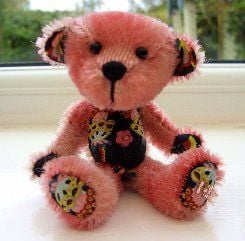 Please read the Update on our Home Page before adopting one of our bears regarding changes to our postal arrangements because of Covid.
Meet Amigo, isn't he adorable? He is 4" tall and is one of our Love Liberty Collection, in style he has slim curved arms and straight legs, a rounded tummy, a large head and his ears are set low on either side of his face. We have made Amigo from a piece of hand dyed Schulte mohair, originally white the fur has a soft, short pile and has been hand dyed in a washed red colour. His tummy, inner ears, pads and paws are made from Liberty Lawn fabric with a black background decorated with a stylised floral pattern using shades of pink, blue, yellow and green. The pattern is quite bold and makes Amigo a very striking little bear. We have partially filled him with steel shot and so he sits nicely, he has a black stitched nose and shiny black English glass eyes. I love this new style of bear added to the Love Liberty Collection and I hope you love him too, Amigo costs £50 including postage.
Please note that as with all our bears, Amigo is not a toy and is not suitable for children.