New Year Reduction - "Haynes"
---
New Year Reduction - "Haynes"
£35.00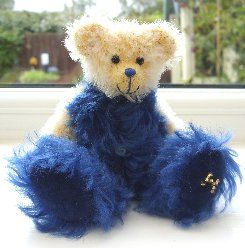 Please read the Update on our Home Page before adopting one of our bears. There may be a delay in dispatch and only UK delivery is currently available.
This is Haynes and he is the latest addition to The Giggle Gang, designed to make you smile (hopefully!) He is 5 1/2" tall and is a Shaggy bear made from truly delicious royal blue Schulte mohair with a dense, soft, slight wavy pile. This has been used for his legs and body whilst for his head, ears and arms we have used much shorter, slightly sparse cream Schulte mohair with a straight, soft pile. He really is very sweet with a cute little smile stitched, like his nose, in two shades of blue thread, he has shiny black English glass eyes and a lemon belly button. His pads are blue cashmere and he has cream cashmere paws, we have filled him with steel shot and steel balls for a good weight, Haynes usually costs £49 including postage but as he is one of the last three bears we have from 2020, we are offering him at a Special Price of only £35 including postage, what a great price! If you would like to see a larger photo of him use the link above to visit our Instagram page and click on his picture, you do not need an Instagram account to do this.
Please note that as with all our bears, Haynes is not a toy and is not suitable for children.