"Buddy"
---
"Buddy"
£50.00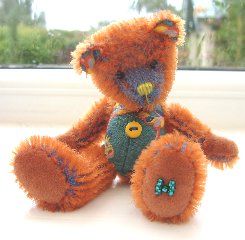 Please read the Update on our Home Page before adopting one of our bears. There may be a delay in dispatch and only UK delivery is currently available.
We are delighted to introduce you to Buddy, he is a sweet 4" bear and is proud to be part of our new Love Liberty Collection. We have just bought a mixed pack of 48 different pieces of Liberty Lawn fabric which we are loving using. Buddy has a brightly coloured fabric called Sophia Buds used for his tummy and inner ears, this is deep turquoise with a stylised floral pattern in shades of copper, yellow, blue and green. We have combined this with two-tone copper mohair backed with blue which has a short pile and a lovely sheen. His pads and paws are toning copper cashmere, he has a yellow and green stitched nose and a yellow belly button. With his steel shot filling and wobble joints he is really cute, he costs £50 including postage.
Please note that as with all our bears, Buddy is not a toy and is not suitable for children.