"Patchwork Peder"
---
"Patchwork Peder"
£54.00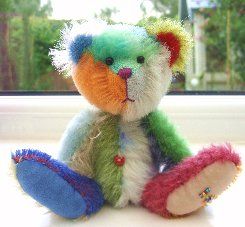 Please read the Update on our Home Page before adopting one of our bears. There may be a delay in dispatch and only UK delivery is currently available.
We would love to introduce to you Patchwork Peder, a gorgeous 5 1/2" bear made from a mixture of nineteen different pieces of mohair and alpaca which give a variety of textures and beautiful colour. In style he has short legs with big feet, short curved arms, a rounded tummy and a lovely heart shaped face. He is heavily filled with steel shot and is made in shades of green, blue, pink, red and orange among others. His pads and paws are from contrasting cashmere, he has a pink and blue stitched nose and a red belly button. I just love him and I hope you do too, he costs £54 including postage.
Please note that as with all our bears, Patchwork Peder is not a toy and is not suitable for children.