"Mei Sheng"
---
"Mei Sheng"
£42.00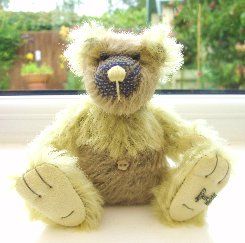 Please read the Update on our Home Page before adopting one of our bears. There may be a delay in dispatch and only UK delivery is currently available.
We are delighted to introduce you to Mei Sheng who is a 5 1/2" Reverse Franda, this means that where he would normally be pale fur he is dark and where you would expect dark fur he is pale. We have used gorgeous dark blue backed, brown tufted Hembold mohair for his head and lower body whilst the rest of him is made from longer, silky soft, straight wheat gold German mohair and they look lovely together. His pads and paws are pale gold ultrasuede with needle sculpting detail and dark grey stitched claws. He is steel shot filled for a good weight, has a pale gold stitched nose and shiny black English glass eyes. As with our other Fred Pandas (Frandas) he has a slim body with short legs, big feet and short arms. His head is positioned to look up at you which is very appealing. I do hope that you like him, he usually costs £54 including postage but as part of our Black Friday Weekend Event this lovely Franda could be yours for just £42 including postage, a saving of over 22%.
Please note that as with all our bears, Mei Sheng is not a toy and is not suitable for children.