"Alder"
---
"Alder"
£49.00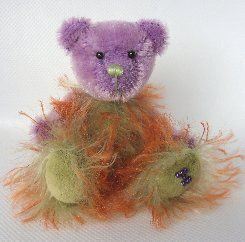 Please read the Update on our Home Page before adopting one of our bears. There may be a delay in dispatch and only UK delivery is currently available.
We are delighted to introduce you to Alder, a sweet 4" bear made in a great combination of colours and textures. His head, ears and arms are made of short, dense, velvety soft mohair in a lovely shade of mauve and to contrast with this, for his body and legs we have used a fantastic new piece of Hembold mohair which is described as "amber on lime." The mohair is lime green backed with a really long, quite sparse and soft pile which is lime green at the roots and tipped in orange - it's just scrumptious! Alder is one of our Shaggy Bears and this fur really does the trick! He has pale lime green cashmere pads and mauve ultrausede paws, a triangular mauve belly button, a pale green stitched nose and shiny black English glass eyes plus we have steel shot filled him for a nice weight. Alder costs £49 including postage.
Please note that as with all our bears, Alder is not a toy and is not suitable for children.