"Chesney"
---
"Chesney"
£54.00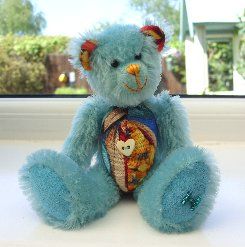 Please read the Update on our Home Page before adopting one of our bears, there may be a delay in dispatch and only UK delivery is currently available.
Say hello to Chesney, the latest addition to The Giggle Gang, bears designed to make you smile! He is 5 1/2" tall and is made of gorgeous Schulte mohair, straight, silky and incredibly soft. The fur started out a pale stone colour and we have hand dyed it a gorgeous shade of teal, chosen to complement the colours in the lovely patterned cotton fabric used for his tummy and inner ears. He has turquoise ultrasuede pads and paws, shiny black English glass eyes and his nose and wide happy smile are stitched in gold highlighted with orange. Chesney is steel shot and steel ball filled for a lovely weight and he has wobble joints on all his limbs and head so he is heavy and wobbly, a great combination. I do hope that you like him, he costs £54 including postage. If you would like to see a larger photo of him, click on the link above to our Instagram page, you do not have to have an Instagram account to do this.
Please note that as with all our bears, Chesney is not a toy and is not suitable for children.