"Amaro"
---
"Amaro"
£49.00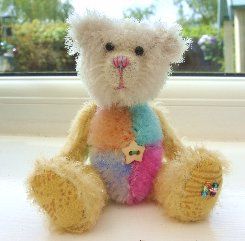 Please read the Update on our Home Page before adopting one of our bears, there may be a delay in dispatch and only UK delivery is currently available.
This little 4" sweetie is called Amaro and he is part of our occasional Pieces of Eight Collection, so called because his body is made from eight different pieces of mohair. With the pirate connection (in my mind anyway!) all these bears are named after real pirates who did exist and so Amaro is named after Amaro Pargo, a Spanish pirate during the golden age. He is a lovely little chap made from pale gold South African mohair with a sparse, tufted texture, his head and ears are made from luxurious soft, straight Schulte mohair in a shade of off-white, like pale stone. For his body we have used eight pieces of hand dyed mohair in shades of pink, turquoise, tangerine, green, blue and gold, a lovely mix of colours some of which have been picked out in the thread used for his nose. We have given him gold decorated cashmere pads and paws, shiny black English glass eyes, a large star shaped belly button and he is filled with steel shot for a great weight. I do hope that you like him, we haven't done any Pieces of Eight for ages and really enjoyed making this one. Amaro costs £49 including postage.
Please note that as with all our bears, Amaro is not a toy and is not suitable for children.