"Bud"
---
"Bud"
£54.00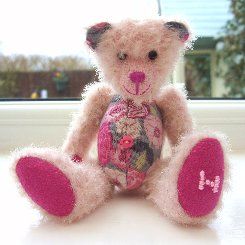 Please read the Update on our Home Page before adopting one of our bears, there may be a delay in dispatch and only UK delivery is currently available.
Meet Bud, a gorgeous, colourful, friendly chap with a warm and comforting smile. He is 5 1/2" tall and is made from very matted, tufted mohair in a pretty shade of pale pink. His pads and paws are deep cerise pink ultrasuede and for his tummy and inner ears we have used lovely floral cotton fabric in shades of grey, pink, green and white. As you can see, they look great together. Bud has wobble joints on all his limbs and his head so he is wonderfully floppy which combined with the weight of his steel shot and steel ball filling makes him very appealing. He has a deep pink stitched nose and wide happy smile, shiny black English glass eyes and a pink flower shaped belly button. I just love him and hope you do too, Bud costs £54 including postage. If you would like to see a larger photo of Bud, please click on the link above to our Instagram page, you do not need an Instagram account to do this.
Please note that as with all our bears, Bud is not a toy and is not suitable for children.