"Miss Nigella"
---
"Miss Nigella"
£48.00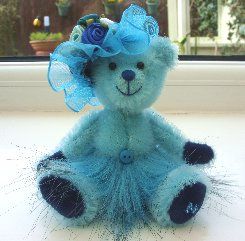 Please read the Update on our Home Page before adopting one of our bears, there may be a delay in dispatch and only UK delivery is currently available.
We are delighted to introduce to you Miss Nigella, one of our Millinery Girls she is named after the flower (Love-in-a-mist.) We have made her from beautiful pale turquoise blue Schulte mohair which started out white and we have hand dyed, the pile is very short and soft. For her skirt we have used very long, dense plush fur in deeper turquoise with a feathery finish. Her pads and paws are dark blue cashmere and we have also used this for her hat which we have decorated with turquoise chiffon ribbon and a selection of ribbon flowers. Miss Nigella is steel shot filled for a good weight so although she is only 4" tall, she nice and heavy for her small size. Her nose is stitched in dark turquoise thread and she has a lovely wide smile, her eyes are shiny black English glass and she has a turquoise belly button. I do hope that you like her, I really enjoyed making her and hope she makes you smile. Miss Nigella costs £49 including postage.
Please note that as with all our bears, Miss Nigella is not a toy and is not suitable for children.