New - "Curved Spindle Bench"
---
New - "Curved Spindle Bench"
£18.00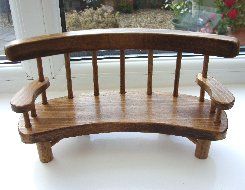 This is a really pretty piece of furniture which is prefect for our smaller bears, showing them off so well. It is a curved bench with spindles and there is lots of work in it's construction. The bench is around 9 1/2" (24cm) long with the seat about 7" (17cm) long and just over 2" (5cm) deep. The seat is around 2" off the floor, the wood has been stained in a nice shade of oak which shows off the grain in the wood. I do hope you like it, it costs £18 plus postage. Don't forget each piece is handmade and the sizes and colour shades can vary slightly.
Please note that as with all our bears, the furniture shown here is not suitable for children to play with.