New - "Haddon the Haven Hare."
---
New - "Haddon the Haven Hare."
£50.00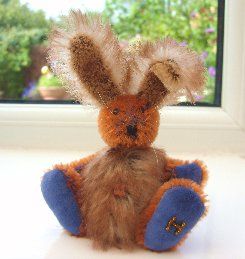 We haven't made any new Haven Hares for ages and have really enjoyed making this cute little chap, Haddon the Haven Hare. He is our smallest size of Hare, around 5 1/2" tall including his lovely fluffy and fully poseable ears. We have made him predominantly from gorgeous short two-tone Hembold mohair with a bright blue backing fabric and gorgeous deep copper coloured pile. To contrast and give him his lovely fluffy appearance, we have used dark brown backed mohair for his tummy, tail and the back of his ears. This fur has a pale, long pile which is tipped in chestnut brown and it looks great with the copper colour. The front of his ears are made from toning brown mohair, short with a velvety soft pile, Haddon is an altogether beautiful hare. His pads and paws are made from toning blue cashmere, he has shiny black English glass eyes, a black stitched nose and a small square copper coloured belly button. With his steel shot filling he is a good heavy weight for his size, I do hope you like him as much as I do! Haddon the Haven Hare costs £50 plus postage.
Please note that as with all our bears and hares, Haddon the Haven Hare is not a toy and is not suitable for children.