"Harrison the Haven Hare"
---
"Harrison the Haven Hare"
£85.00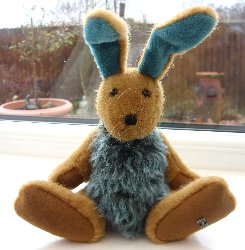 I recently bought a lovely little book called "A Charm of Goldfinch" which is beautifully illustrated and is all about the collective nouns for different groups. A group of hares is called "a Down of Hares" which I think is just gorgeous and this month we have offered you a Down of Hares to adopt, of which Harrison the Haven Hare is the largest. He is 10" tall including his wired and poseable ears. We have made him out of deep honey coloured plush fur which is dense and soft. For his tummy and tail we have used wavy, long, dense bottle green Hembold mohair tipped in pale grey and the insides of his ears are made from toning short bottle green South African mohair. He has ultrasuede pads and paws, a black stitched nose and shiny black English glass eyes. We have also given Harrison whiskers made from nylon invisible thread, they are a new innovation for our hares and I really like them even though they can be a bit wayward! Harrison has some steel shot filling and plastic pellets in his tummy. I just love him, I hope you do too. Harrison the Haven Hare costs £85 plus postage.
Please note that as with all our bears and hares, Harrison the Haven Hare is not a toy and is not suitable for children.