"Hywel the Haven Hare"
---
"Hywel the Haven Hare"
£70.00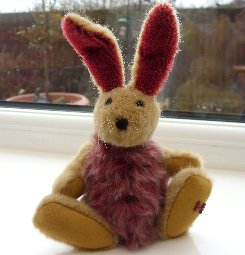 We are delighted to introduce you to Hywel the Haven Hare, one of three Haven Hares available to adopt on this month's Newsletter. He is 7" tall including his wired and fully poseable ears and is made of soft, dense, fawn coloured plush fur. His tummy and tail are made of long, soft, wavy raspberry coloured Hembold mohair whilst the front of his ears are made of deep red alpaca, short, soft and dense in texture. Hywel has gold ultrasuede pads and paws, shiny black English glass eyes and a black stitched nose and mouth. These latest Haven Hares have been given whiskers made from nylon synthetic thread, they can be a bit wayward but I think they add great character. Hywel is filled with some steel shot so he has a nice weight, his tail is stuffed like a little pom-pom, very cute. I do hope that you like him, we really love making our Haven Hares. Hywel costs £70 plus postage.
Please note that as with all our bears and hares, Hywel is not a toy and is not suitable for childre.