"Patchwork Patrizio"
---
"Patchwork Patrizio"
£40.00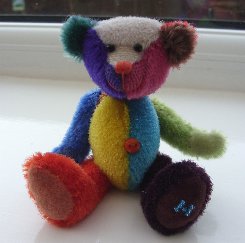 I'm on a mission to bring some colour to cold January days and Patchwork Patrizio definately does that! He is around 4" tall and is made of 15 different colours of the same type of South African mohair. The pile is short, dense and has a nice sheen, we have used bright primary colours as well as shades for this bear and he looks just great. His pads and paws are toning cashmere, he has a russet coloured stitched nose and a wide, happy smile, his eyes are shiny black English glass and we have filled him with steel shot so although he is not very big, he has a good weight. I do hope you like him, he is a cheerful little chap with a sweet face. Patchwork Patrizio costs £40 plus postage which is a bargain really as there is a lot of work in these bears, cutting them out takes ages.
Please note that as with all our bears, Patchwork Patrizio is not a toy and is not suitable for children.