"Huey the Haven Hare"
---
"Huey the Haven Hare"
£70.00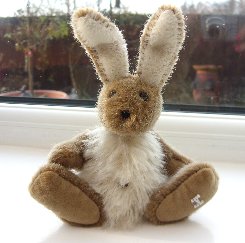 Say hello to Huey the Haven Hare, one of the first Hares of 2018. Isn't he just lovely? He is around 5" tall not including his ears and 7" with them, we have made him of lovely pale gold German plush fur. The pile is very dense and soft, within it there are fibres of differing lengths and so it gives the fur a realistic look, perfect for a Hare. We have combined this gold fur with longer, straight, stringy white German mohair which we have used for his tummy and tail whilst for the fronts of his ears we have used short, white Schulte mohair. He has shiny black English glass eyes and a black stitched nose, we have filled him partly with steel shot and so he has a good weight for his size. His ears are wired and fully poseable and his cute little tail is stuffed with polyester filling. I do hope that you like him, we really love making the Hares and Huey is particularly sweet. He costs £70 plus postage.
Please note that as with all our bears, Huey the Haven Hare is not a toy and is not suitable for children.