"Humph the Haven Hare"
---
"Humph the Haven Hare"
£70.00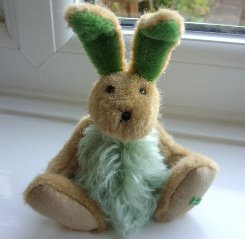 As regular visitors will know, we started to make Haven Hares earlier in the year but because of our house move we have not yet made very many. Humph the Haven Hare is one of our latest smaller hares and I know I'm biased but he is just adorable! He is made of short, very dense, soft pale gold plush fur which we sourced from Germany and with this we have given him a light green mohair tummy, the fur is longer and softly waved and this has also been used for his tail. The fronts of his ears are short, deeper green mohair, he has shiny black English glass eyes and a black stitched nose. Humph has some weight as he is filled with steel shot as well as polyester, his pads and paws are toning ultrasuede and he has a green belly button. His ears are wired so that they can be bent and posed, I do hope you like him. Humph the Haven Hare costs £70 plus postage.
Please note that as with all our bears, Humph the Haven Hare is not a toy and is not suitable for children.