"Horace the Haven Hare"
---
"Horace the Haven Hare"
£85.00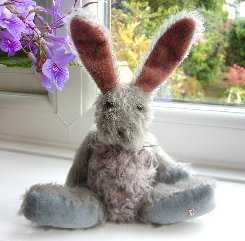 We are delighted to introduce you to Horace the Haven Hare! He is the second of our adorable new Haven Hares to be added to the Website Shop - although I grant you that there was a slight delay between the first one and Horace! He is 7" tall without his ears and around 10" with them, he is made of lovely light grey Hembold mohair, soft and straight. For the inside of his ears we have used very short, straight, deep pink fur whilst his tummy and tail are made of pale pink backed mohair with a longer, soft, frothy pile mixed with black and white thread. His pads and paws are soft, luxurious grey cashmere, he has shiny black English glass eyes, a black stitched nose and his ears are wired so that they are poseable.
Horace is quite heavy as we have filled him with steel shot, steel balls and plastic pellets. He has a very sweet pom-pom like tail and a rather lovely face. I do hope that you like him, he costs £85 plus postage.
Please note that as with all our bears and hares, Horace is not a toy and is not suitable for children.