"Hector the Haven Hare"
---
"Hector the Haven Hare"
£85.00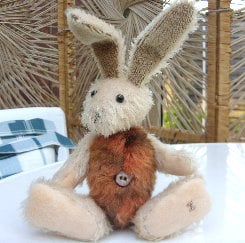 We are very excited to introduce you to Hector the Haven Hare, he is our very first hare, in fact he is the first Haven creation who is not a bear. I have been wanting to make a Hare for ages and despite being under pressure making stock for our latest fair, I couldn't wait any longer and so I just got on with him. Hector is around 7" tall from the top of his head to his heels but with his magnificent ears, he is around 10" tall. We have used a selection of toning fabrics to make him, mainly he is made of very pale peach Hembold mohair with a straight, sparse pile which shows the backing fabric through. His tummy and gorgeous round, stuffed tail are made of dense, wavy mohair in mixed shades of terracotta and brown. The backs of his ears are made of the pale peach mohair but we have used short, silky soft, straight deep gold Hembold mohair for the front of his ears, they are also wired and so poseable. He is quite heavy with big feet and a round tummy but he does not stand because of the shape of his feet and he is loosely jointed. His pads and paws are pale peach cashmere, he has shiny black English glass eyes, a small black stitched nose and mouth and a brown belly button. I do hope that you like Hector the Haven Hare, I really enjoyed making him and more will definately follow. Hector costs £85 plus postage.
Please note that as with all our bears, Hector is not a toy and is not suitable for children.