"Patchwork Pittacus"
---
"Patchwork Pittacus"
£45.00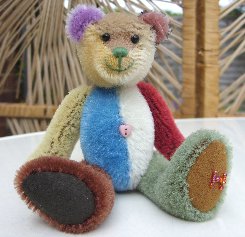 This beautiful bear is made in a lovely selection of colours and is a bright and cheerful addition to any Hug. He is 5 1/2" tall and is called Patchwork Pittacus (Pittacus was apparently one of the Seven Sages of Greece.) He is made from 15 different pieces of mohair and alpaca in a rainbow of colours, his pads and paws are contrasting ultrasuede, he has a green stitched nose and smile and shiny black English glass eyes. We have filled him with steel shot and steel balls so he has a good weight for his size, he has a sweet pale pink heart shaped belly button and a lovely face. We really enjoy making our Patchwork bears, although cutting them out is a real challenge to make sure that you get the contrasting colours in the right place! I hope you like him too, Patchwork Pittacus costs £45 plus postage.
Please note that as with all our bears, Patchwork Pittacus is not a toy and is not suitable for children.