"Bowen"
---
"Bowen"
£42.00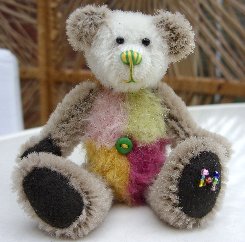 This lovely looking chap is Bowen, the latest bear in our Pieces of Eight Collection. He is 3 1/2" tall and is made in a selection of fur, his arms, legs and ears are made of very short, dense, soft, beige Hembold alpaca, his head is made of short, white Hembold mohair and his body is made of eight different colours of the same tufted, matted German mohair. Bowen has dark brown ultrasuede pads and paws, a bright green belly button and his nose is stitched in green and yellow thread. We have filled him with steel shot for weight and he has shiny black Englsh glass eyes.
Our Pieces of Eight bears are called this because we use eight pieces of fur for their body. The title of the collection led me to think about pirates and so we give them all Pirate names and Bowen is no different. He is named after John Bowen who lived in the early 18th Century during the "Golden Age of Piracy" which was from 1690 to 1730. Bowen was from Bermuda and was active in the Indian Ocean. I do hope that you like our little Bowen, he is very sweet. Bowen costs £42 plus postage.
Please note that as with all our bears, Bowen is not a toy and is not suitable for children.