"Patchwork Poseidon"
---
"Patchwork Poseidon"
£49.00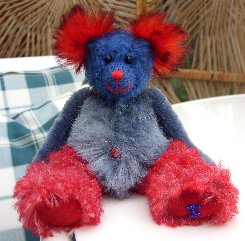 This is Patchwork Poseidon, a Patchwork bear with a difference. Although he is made of 19 pieces of fur, like all our bears in this style, he is made only in blue and red and he is also symmetrical. This means that we have used the same fur for each arm, the same for each ear, the same for each leg etc. There are six different types of mohair in this bear, three red and three blue, all are German except his legs which are made of dense, tufted, tipped red South African mohair. He is really striking and as you can see, really happy with a wide smile stitched in bright red thread like his nose. His pads and paws are toning cashmere, he has shiny black English glass eyes and is heavily filled with steel shot. I just love him, I think he is really special, I hope you like him too. Patchwork Poseidon costs £49 plus postage.
Please note that as with all our bears, Patchwork Poseidon is not a toy and is not suitable for children.