"Bud"
---
"Bud"
£46.00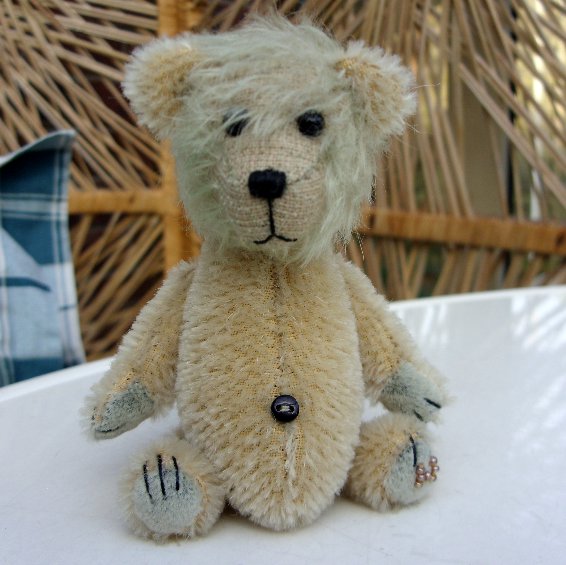 This adorable little bear is Bud, he is the same totally new style as Stumpy and if you have read the Blog page you will know that we are now calling this collection the Fubsy Collection. Fubsy is apparently an archaic word which means "stumpy"!
Bud is 5" tall and is made of cream coloured Hembold mohair, short and straight with a fairly sparse texture which allows you to see the backing fabric through the pile. His head is made of longer, whispy, straight, wheat gold coloured mohair which we have hand dyed with a pale green wash. He has pale green cashmere pads and paws with black stitched claws, a black stitched nose and shiny black German glass eyes. In style, Bud has really short legs, short arms and a longer, rounded body. He is heavily filled with steel shot and steel balls so he sits nicely. His head is trimmed so that he has a lovely little fringe of hair that he peers out of very appealingly. I love this new style of bear and I hope you do too, as I want to continue making them! They are very different but very sweet, Bud costs £46 plus postage.
Please note that as with all our bears, Bud is not a toy and is not suitable for children.