"George"
---
"George"
£60.00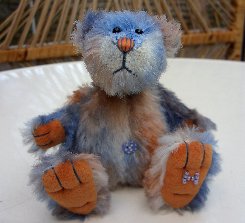 Here he is, the first of our new Hand Dyed Collection, a gorgeous 5 1/2" bear called George, made in mohair hand dyed by us particularly for this bear. This means that he is very much a "one off" bear because there was just enough fur to make him, and if we wanted to duplicate the fur it would be impossible to get it exactly the same. The fur is white German mohair with a short, slightly wavy pile. We have dyed it in a combination of "Blue Skies" and "Dark Carrot" the colour was randomly applied and it made different colours where it combined. In style he has short rounded arms, short legs with big feet, a slim body and quite a big snout. He looks up at you with a very appealing expression, he has shiny black English glass eyes and a stitched nose in orange and blue. We have given him orange cashmere pads and paws with needle sculpted detailing and blue stitched claws. We have filled him with steel shot and steel balls so he has a good weight for his size. I do hope you like him, George costs £60 plus postage.
We are really pleased with this first experiment with dyeing fur and are very excited at the creative possibilities. We have lots more hand dyed bears planned in all our styles, so do visit again soon and see who else is new.
Please note that as with all our bears, George is not a toy and is not suitable for children.