Long Curved Back Bench.
---
Long Curved Back Bench.
£17.00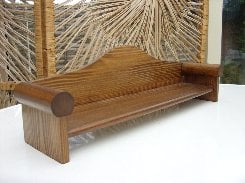 This bench is the same style as the smaller Curved Back bench but this one will just about seat 4 of our 5 1/2" bears or 5 of our 3 1/2" bears. It is just short of 13" wide in total with the seat being 11 3/4" wide and 1" off the ground. This bench is such a pleasing style, a classic sofa it looks lovely and is stained in a nice honey brown shade which shows off the grain in the wood. It costs just £17 plus postage.
Please note that as with all our bears, the furniture shown here is not suitable for children to play with.