New style - Sofa chair.
---
New style - Sofa chair.
£15.00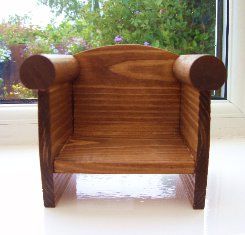 The sofa chairs have been out of stock for ages but Chris has made some more although they are a slightly different size from the originals. They are still a cute little chair, absolutely perfect for one of our 5 1/2" bears or even the 3 1/2" size. It is a mini version of the curved back bench we have just requested some more of (watch this space!) it has the same roll arms and a slight curve to the back. The chair is 4" to the top of the back, the top of the seat is about an inch off the ground and it is just over around 4 1/2" wide in total of which 3 1/2" is the seat. Stained in a lovely dark honey brown it shows off the grain in the wood. I hope you like it, it costs £15 plus postage.
Please note that as with all our bears, the furniture shown here is not suitable for children to play with.