"Dylan"
---
"Dylan"
£55.00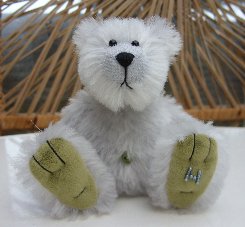 Isn't he just adorable? This is Dylan, he is our first mini Fred style bear and he is only 5 1/2" tall. We have made him out of very pale dove grey Schulte mohair, silky soft in texture with a straight pile, the fur is hand dyed in colour and has a lovely feel. Dylan is part of our Mythology Collection, we have given him sage green cashmere pads and paws which have been needle sculpted and have black stitched claws. His nose is stitched in black thread, he has shiny black English glass eyes, a sage green belly button and we have filled him with some steel shot so he has a nice weight for his size.
We really enjoy making these Fred style bears (so called just because the first one was called Fred) and we are really pleased with the way this smaller sized version has turned out. He has short legs with big feet, short straight arms, a slim body and his head is designed so that he looks up at you with a lovely expression. I do hope that you like him, he costs £55 plus postage.
Please note that as with all our bears, Dylan is not a toy and is not suitable for children.