"Evindal Elf"
---
"Evindal Elf"
£40.50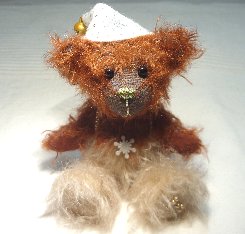 This cheeky little chap is Evindal Elf, our latest 4" Christmas Elf, one of Santa's little helpers. He is made of gorgeous brown backed, deep terracotta coloured felted German mohair, scruffy and matted whilst his trousers are made of longer, wheat gold South African mohair decorated with dark brown splodges of colour. His pads are made of toning gold Sassy fabric and his paws are made of lovely deep terracotta cashmere, he has bright metallic gold ribbon braces, a snowflake shaped belly button and a gorgeous metallic thread stitched nose in mixed colours of gold and turquoise. Evindal Elf is steel shot filled for weight so although he is only small, he has a nice weight for his size, he has shiny black English glass eyes and his hat is white felt decorated with metallic silver stars and a shiny gold bell. In style he has a small neat body, arms and legs whilst his head is bigger with a sweet heart shaped face. I do hope you like him, I really love his colours and his scruffy fur.
Evindal Elf would normally cost £45 plus postage but during our Black Friday Discount Weekend he could be yours for just £40.50 plus postage, a saving of 10%. Our Discount Weekend ends tomorrow night at 8pm so if Evindal Elf is the boy for you, don't delay for too long.
Please note that as with all our bears, Evindal Elf is not a toy and is not suitable for children.