"Bing"
---
"Bing"
£67.50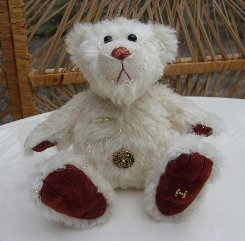 Say hello to Bing, he is our first ever Christmas style "Fred" bear and he is absolutely gorgeous! Bing is around 7 1/2" tall and is made of lovely white South African mohair with a pretty metallic gold thread shot through the pile. This gold thread makes Bing sparkle beautifully in the light, he has rich mahogony brown cashmere pads and paws, a lovely metallic toning bronze stitched nose and shiny black English glass eyes. In style these lovely little bears have short arms, short legs with big feet, quite a slim body and a sweet upturned face. He has small ears set high on the back of his head and a decorated gold belly button. We have filled him with polyester and steel balls in his tummy so he has some weight. His pads and paws have been needle sculpted and he has black stitched claws. I really love him, I hope you do too.
Usually a Fred style bear of this size would cost £75 plus postage but during our Black Friday Discount Weekend Bing could be yours for just £67.50 plus postage, a saving of 10% which makes him a bargain. Our Discount Weekend ends at 8pm on Monday so if Bing is the boy for you, don't delay for too long.
Please note that as with all our bears, Bing is not a toy and is not suitable for children.