"Aella"
---
"Aella"
£35.10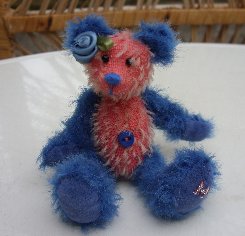 Meet Aella, our latest 3 1/2" little girl bear and the newest addition to our new Mythology Collection, Aella is Greek for whirlwind. She is made of bright coral coloured German mohair, very sparse and short, we have used this for her head and body whilst for her arms, legs and ears we have used much thicker, quite coarse tufted German mohair in a rich shade of blue. Her pads and paws are toning blue cashmere, she has a blue stitched nose and shiny black English glass eyes. We have filled her with steel shot so even though she is only small, she is a nice weight, she has a blue belly button and a blue ribbon flower over her right ear. As you can see, Aella is a sweet looking little bear, I hope you like her.
Normally Aella would cost £39 plus postage but during our Black Friday Discount Weekend you can save 10% as she could be yours for just £35.10 plus postage which is a bargain price for a one-off handmade mohair bear. Our Discount Weekend ends at 8pm on Monday so if Aella is the bear for you, don't delay too long.
Please note that as with all our bears, Aella is not a toy and is not suitable for children.