"Ethlando Elf"
---
"Ethlando Elf"
£40.50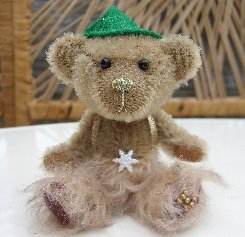 Meet Ethlando Elf, our latest adorable 4" Christmas Elf, one of Santa's little helpers. He is made of very short, velvety soft, dark gold Schulte mohair with his trousers made of much longer, quite matted scruffy wheat gold South African mohair decorated with splodges of dark brown. To tone with this his pads are made of gold and brown animal print Sassy fabric and his paws are made of tan ultrasuede. He has pretty metallic gold ribbon braces, a snowflake shaped belly button and shiny black English glass eyes. We have made his hat out of green felt decorated with silver glitter and a gold bell, his nose is stitched in lovely metallic thread in shades of gold, turquoise and silver. Ethlando Elf is steel shot filled and so has some weight for his size, in style he has a small neat body, arms and legs and a larger head with a sweet heart shaped face.
Normally Ethlando Elf would cost £45 plus postage but during our Black Friday Discount Weekend he could be yours with a 10% discount for just £40.50 plus postage. Our Discount Prices end at 8pm on Monday 30th so if he is the Elf for you, don't wait too long!
Please note that as with all our bears, Ethlando Elf is not a toy and is not suitable for children.