"Elion Elf"
---
"Elion Elf"
£45.00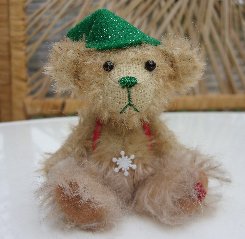 I just love this new style of Elf and I hope you do too. Our first offering is Elion Elf, he is 4" tall and is made of short, quite sparse tufted South African mohair in a nice shade of wheat gold. His trousers are made of light gold South African mohair with a darker brown splodge in the colour and a longer quite matted pile. Elion Elf has red ribbon braces with a metallic gold polka-dot pattern, his pads are tan cashmere and his paws ivory cashmere. He has a green felt hat decorated with silver glitter and with a red bell on the end, his nose is stitched in toning metallic green thread and he has a snowflake shaped belly button. We have filled him with steel shot so he has a nice weight for his size.
In style our new Elves have a small neat body, arms and legs whilst his head is larger with the ears set quite low. Dont' worry if you miss out on Elion Elf, we will be making lots more over the coming week. Elion Elf costs £45 plus postage.
Please note that as with all our bears, Elion Elf is not a toy and is not suitable for children.