"Charcoal"
---
"Charcoal"
£105.00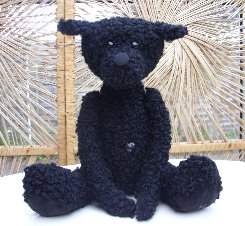 This very striking bear is called Charcoal, he is one of the latest bears in our new Biscuits Collection. He is 15" tall and is made of deep black fur, unusual in that it has a poodle like texture, with tight curls. We have used black cashmere for his pads and paws, he has shiny black German glass eyes and a black fabric covered button for his nose.
In style Charcoal has short legs with round footpads, long slim arms, quite a slim tummy and a pronounced hump. He is a style of bear that we have made almost from when we first started designing our own bears, but in all these years we have only made a handful of them in this larger size. He really is very distinctive and yet still cute. He is filled with steel shot and plastic pellets in his paws and feet but soft polyester everywhere else and it this use of weight that makes him sit so nicely with his paws between his feet, really well balanced and very heavy. Charcoal has quite a long snout and the button nose looks great, he has a black belly button with a facet cut finish which catches the light. I do hope that you like him, he costs £105 plus postage.
Please note that as with all our bears, Charcoal is not a toy and is not suitable for children.