"Pict"
---
"Pict"
£40.00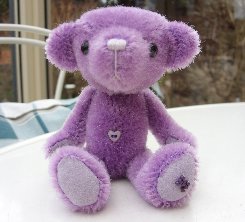 This sweet bear is Pict, some of you may recognise him from earlier in the year as I think he was on the Website then. He has been off to Lyme Regis for the summer at Alice's Bear Shop, but as always when we trade at Hugglets we are short of stock so we scrounge it back off everyone which is why Pict returned to us! Sadly he didn't find a home there either which is a real shame as he is a lovely 5" bear made of short, velvety soft hand dyed German mohair in a beautiful shade of lilac. His pads and paws are paler lilac ultrasuede, he has a toning paler stitched nose and big, shiny German glass eyes.

In style, Pict has a small slim body, arms and legs and a larger head. His ears are set low on either side of his face and his eyes are set low too. He is heavily filled with steel shot and quite loosely jointed. He has a lovely lilac heart shaped belly button and as you can see, an adorable expression. I do hope that you like him, Pict usually costs £48 plus postage but during our Black Friday Discount Weekend you could adopt him for a bargain price of just £40 plus postage which is a saving of over 16%. He would really love to find a new home, can you help? Don't forget our Discount Weekend ends at 8pm on Monday 30th so don't delay if Pict tempts you!

Please note that as with all our bears, Pict is not a toy and is not suitable for children.