"Walter"
---
"Walter"
£85.00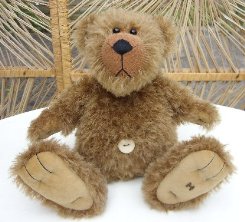 I just love this bear! He is called Walter and is 10" tall, he is in our new style the first of which was called Fred, you may have read about him on the Sneak Preview page. Walter is made of really gorgeous honey brown, curly Schulte mohair, the pile is dense and soft, it is lovely fur. His pads and paws are made of dark gold cashmere, they are needle sculpted and have black stitched claws. We have filled Walter with plastic pellets and polyester so he is not as heavy as some of our bears but he has a nice solid feel. He has shiny black German glass eyes and a black stitched nose.
The style of these new bears is quite different to our other bears, Walter has short arms, short shaped legs with big feet and square toes. His body is quite slim and he has a lovely upturned face, quite a big snout and small ears set back on his head. I do hope that you like him, he costs £85 plus postage.
Please note that as with all our bears, Walter is not a toy and is not suitable for children.