Hi-Lite Chair - Lime green.
---
Hi-Lite Chair - Lime green.
£24.00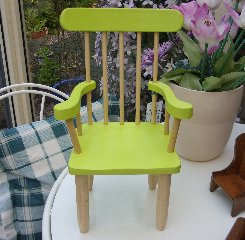 This chair is the same in size and style as the yellow Hi-Lite chair already shown, but this time instead of the yellow, it is painted a fantastic shade of lime green. I am a real fan of lime green as a colour, it cheers me up and makes me smile as does this chair. We have used a chair like this on our display a couple of times and sat bears of all different colours on it to great effect. The style of chair is also really pleasing and the detail is brilliant, it is just like a real spindle back chair only smaller! It costs £24 plus postage.
Please note that as with our bears, the furniture shown here is not suitable for children to play with.