Hi-Lite Chair - Yellow.
---
Hi-Lite Chair - Yellow.
£24.00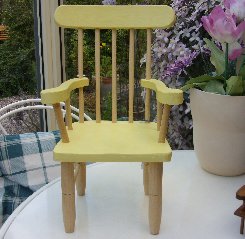 I love this chair, it is such a great style and a lovely colour. We actually have one of 12" bears sat on it in the workroom and he looks great. He is bright yellow and stands out well. This chair is a very pleasing shape, it is perfect for larger bears but also great for a selection of smaller bears grouped together. The seat is 7" wide and 6" deep. The detailing is so good that the seat is shaped like a real chair to your bottom, it is not just a flat piece of wood. It is around 15" to the top of the seat back, the arms are shaped and it is only the seat base, arms and back rest that are painted a pale shade of lemon, the rest of the wood is pale pine. This chair costs £24 plus postage.
Please note that as with our bears, the furniture shown here is not suitable for children to play with.