Coloured High Chair.
---
Coloured High Chair.
£13.00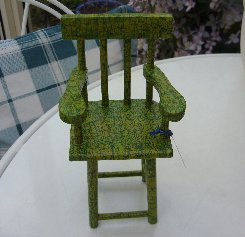 This chair has the same dimensions as the wooden high chair and is perfect for one of our 5 1/2" bears, the seat is around 4" high and it is around 7 1/2" to the top of the back. In the same style as the Spindle bench, this chair has been carefully wrapped in a plastic sort of coating, in this case lime green with a jazzy pattern on it. It is very striking and shows off our plain coloured bears really well. The chair costs £13 plus postage.
Please note that as with our bears, the furniture shown here is not suitable for children to play with.