"Patchwork Prescott"
---
"Patchwork Prescott"
£70.00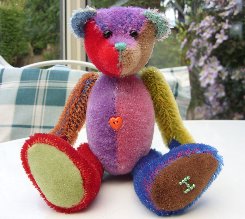 This is Patchwork Prescott, the first 8" bear in our new Patchwork Collection. As you can see, he is a very colourful chap with a sweet face. For his body we have used a combination of short, velvety soft hand dyed mohair in shades of lilac. pink, pale blue and light green. For his limbs we have used some of the short two-tone mohair in a range of colours and as you can see the combination works well. Patchwork Prescott has contrasting cashmere pads and paws, a shiny orange heart shaped belly button, shiny black English glass eyes and a turquoise green stitched nose and smile. We have filled him with a mix of glass beads and plastic pellets so he does have some weight. We are really pleased with how he has turned out and I hope you like him too. He costs £70 plus postage.
Please note that as with all our bears, Patchwork Prescott is not a toy and is not suitable for children.