"Trolgar"
---
"Trolgar"
£45.00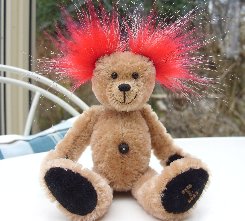 Let us introduce you to Trolgar, the second of our new Troll inspired collection. He is made of lovely short, textured caramel coloured German mohair and we have combined this with fantastic long, bright red feather finish plush fur with a very slight black and gold tip which shows up really well here in his photo. Trolgar is 5 1/2" tall, he has black cashmere pads and paws, a black belly button and a black stitched nose and wide happy smile. We have filled him with steel shot and steel balls so he has a nice weight for his size.
Our new collection is designed to make you smile so hopefully Trolgar does that. They are inspired by Trolls and all have long, colourful ears and a happy smiley face. Trolgar costs £45 plus postage.
Please note that as with all our bears, Trolgar is not a toy and is not suitable for children.