"Rakash"
---
"Rakash"
£45.00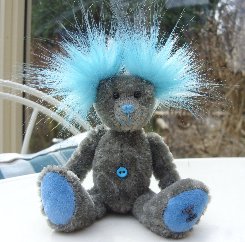 We are delighted to introduce you to our new Troll inspired collection. These are fun bears, they all have big happy smiles and lovely long, colourful ears, they have Troll names and our first offering shown here is Rakash. He is 5 1/2" tall and is made of short, textured, grey German mohair with his ears made of wonderful long, turquoise, feather finish plush with a slight black tip. We have continued the turquoise colour with the pretty turquoise blue cashmere used for his pads and paws, he has a bright turquoise belly button and a turquoise stitched nose and smile.
I do hope you like Rakash, we will be making more of these bears, we have a great selection of fur lined up for them so don't worry if you miss out on these first few. Rakash costs £45 plus postage.
Please note that as with all our bears, Rakash is not a toy and is not suitable for children.